Feb 5th Edmonton Online/Appointment Sale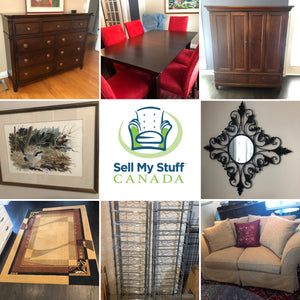 This online sale IS LIVE NOW and will close on Fri

day, February 4th at 10pm. Pick-ups of purchased items and appointments for part 2 of this sale will be Saturday, February 5th from 11am to 4pm.  All items purchased online must be picked up during the sale pick-up times, unless other arrangements are made prior to purchase.  If you would like to book an appointment to attend this sale, please email the following information to edmonton@sellmystuffcanada.com
1. your full name
2. contact phone number
SCROLL DOWN TO SEE AVAILABLE ITEMS
The online portion of this sale IS LIVE NOW and will close on Friday, February 4th, 2022 at 10:00 pm!
Discounts:
The online portion of this sale is to give all customers an equal opportunity to purchase some of the items on this sale.

Buyer's Premium: There is NO buyers premium on any Sell My Stuff Canada online sales as we want our customers to get great items for the lowest possible price always!

GST: is charged on each online sales transaction.
Sale Location: Westbrook Estate area of Edmonton, AB. *Exact address and appointment time will be given upon making a purchase, along with sale instructions.  You can expect this email within 24 hours of your purchase or appointment request.
Terms and Conditions
Pickup Details:  A confirmation email will be sent to buyers when a purchase is made with more information.  Please DO NOT go to the house without a confirmation from us. Item(s) will NOT be released if it is not done on an agreed upon time/date.
Pickup Date/Time: Part 2-Saturday, February 5th from 11am to 4pm.  Detailed instructions will be included in your follow-up email.
Please make sure to read all special terms below before buying any items!!
**COVID-19--AS PER PROVINCIAL REQUIREMENTS, MASKS WILL BE REQUIRED FOR THIS SALE.

Just like our in person sales, the first person to checkout and pay for the item with their credit card is the new owner of that item. The prices for this online sale are set.  The online portion of this sale is to give all customers an equal opportunity to purchase some of the items on this sale. 

Please arrive with enough time to pack and move your items during the hours of the on-site portion of the sale. The sale hours are set and will not be extended. Please bring packing materials, boxes, bags, dollies, tools, tape, etc, and whatever else you may need for removal of your items as nothing will be provided at the location. Please bring enough assistance to lift heavy items as there will be no one to assist you at the location. Please bring your email confirmation of purchase as this will be your receipt. No items will be released without this receipt.

When entering the house or premises for pick up please enter at your own risk and treat the property with respect.  Note, this is a clean, non-smoking, pet free home.  

Sell My Stuff Canada believes in transparency when conducting all business activities. We will do our utmost to represent every item in an honest and straightforward manner. Pictures and descriptions of the items should give you an accurate picture of the item you are interested in, flaws and imperfections included. We will not be able answer questions about individual items in our online sales as we typically do not have access to the house once pictures are taken. Please remember that most of these items are used and that is why our prices are so low!
Please understand that items will be forfeited if they are not picked up during set pick up times and a refund will not be given unless an alternative time is arranged that is mutually agreeable between both parties.

ALL SALES ARE FINAL. We have a very limited refund policy. All of our online sales are "buyer beware".  All refund related issues need to be raised at the time of pickup and refund requests placed after pick up will not be considered.

Thanks for visiting our online store and happy shopping!
e. edmonton@sellmystuffcanada.com
p. 780-668-6721
Feb 5th Edmonton Online/Appointment Sale
There are no products in this collection.